May 2002
Gilbertto Prado | Desertesejo
Centro de Estudios Brasileiros
Gilbertto Prado visits Argentina to talk about multiusers virtual reality systems on Internet, and present his work Desertejo.
Desertejo is an Internet space dedicated to multiuser virtual interaction, built in VRML, and allowing for simultaneous presence of upto 50 participants. The project explores the vast geography in a poetic manner. It talks about time rupture, solitude, and the constant redesign of space, showing a prolific number of meeting points, and points of separation. It has been built putting together dreamlike spaces that can be accessed in 3 different ways, and that allow multiple point of views, and a variety of paths that interlink and cross generating unpredictable journeys.
The conference was sponsored by the University of San Andres, and supported by the Fundación Antorchas, the Deptartment of Culture of the City of Buenos Aires, the Department of Culture of the Province of Buenos Aires, Itau Bank, and the Institute of Brazilian Studies.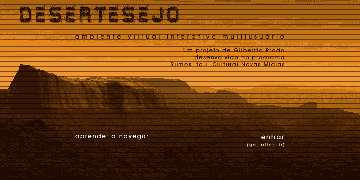 More info: www.itaucultural.org.br/desertesejo