October 2001
Stelarc | Extended Body
MAMBA: Museo de Arte Moderno
Stelarc visits Argentina to present his Third Hand at the Museum of Modern Art in Buenos Aires.
Stelarc, an Australian performance artist, was born in Limassol, island of Cyprus. He has been extending his body through performances since the late 1960s. His performances include attaching a "Third Hand" to his body, extending himself into virtual space with a "Virtual Hand", and over 25 "suspension" events where he hung his entire body from hooks piercing his skin.
Stelarc's artistic strategy revolves around the idea of "enhancing the body" both in a physical and technical manner. It originates as a polarism between the "primal desire" to defeat the force of gravity with primitive rituals and a low- tech and the hi-tech performance with the third arm and the related cybersystem. His intention in both cases is to "express an idea with his direct experience."
Through Stelarc's work, we reach a second level of existence where the body becomes the object for physical and technical experiments in order to discover its limitations. When Stelarc speaks of the "obsolete body" he means that the body must overcome centuries of prejudices and begin to be considered as an extendible evolutionary structure enhanced with the most disparate technologies, which are more precise, accurate and powerful: "the body lacks of modular design," "Technology is what defines the meaning of being human, it's part of being human." Especially living in the information age, "the body is biologically inadequate."
For Stelarc, "Electronic space becomes a medium of action rather than information".
The conference was sponsored by the University of San Andres, and supported by the Fundación Antorchas, the Deptartment of Culture of the City of Buenos Aires, the Department of Culture of the Province of Buenos Aires, Intercontinental Hotel, Garbarino S.A. and Isenbeck.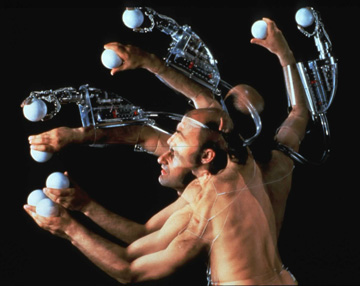 Stelarc and his Third Arm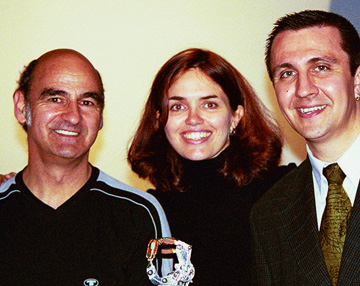 Stelarc, Sole Nasi and Rodrigo Alonso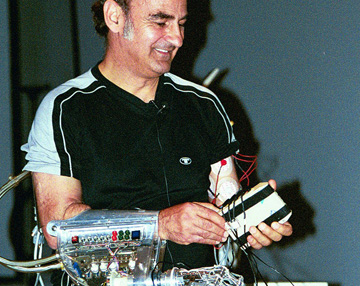 Stelarc and his Third Arm at the Museum of Modern Art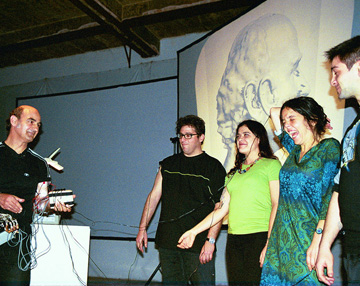 Stelarc working with the audience at the Museum of Modern Art
More info: www.stelarc.va.com.au